Why Your Website Should Be Your Best Salesperson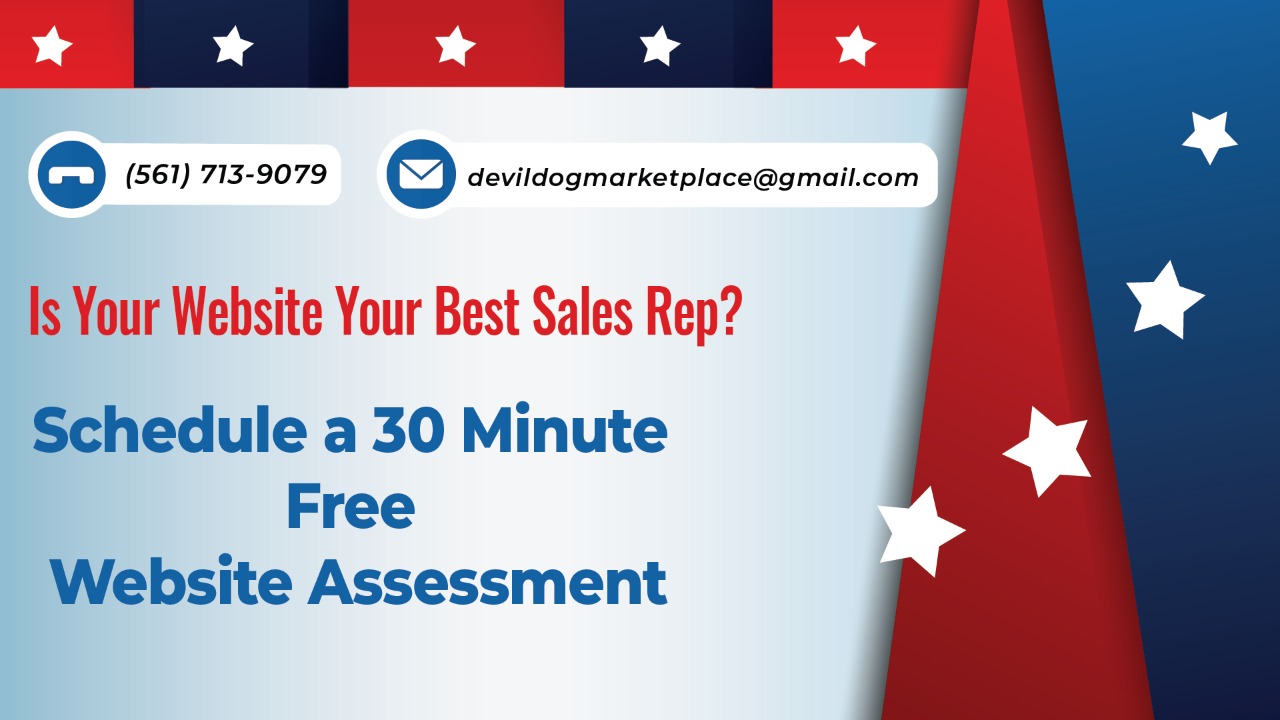 𝙒𝙝𝙮 𝙔𝙤𝙪𝙧 𝙒𝙚𝙗𝙨𝙞𝙩𝙚 𝙎𝙝𝙤𝙪𝙡𝙙 𝘽𝙚 𝙔𝙤𝙪𝙧 𝘽𝙚𝙨𝙩 𝙎𝙖𝙡𝙚𝙨𝙥𝙚𝙧𝙨𝙤𝙣
𝐁𝐮𝐢𝐥𝐝 𝐚 𝐇𝐢𝐠𝐡-𝐏𝐞𝐫𝐟𝐨𝐫𝐦𝐚𝐧𝐜𝐞 𝐖𝐞𝐛𝐬𝐢𝐭𝐞 𝐟𝐨𝐫 𝐘𝐨𝐮𝐫 𝐁𝐮𝐬𝐢𝐧𝐞𝐬𝐬
𝐓𝐚𝐤𝐞 𝐀𝐜𝐭𝐢𝐨𝐧 𝐭𝐨 𝐌𝐚𝐱𝐢𝐦𝐢𝐳𝐞 𝐖𝐞𝐛𝐬𝐢𝐭𝐞 𝐏𝐞𝐫𝐟𝐨𝐫𝐦𝐚𝐧𝐜𝐞
Take the first step towards improving the performance of your website with this free, and no-strings-attached, website evaluation.
𝗜 𝗮𝗺 𝗰𝗼𝗺𝗺𝗶𝘁𝘁𝗲𝗱 𝘁𝗼 𝗵𝗲𝗹𝗽𝗶𝗻𝗴 𝘁𝗵𝗼𝘀𝗲 𝗶𝗻 𝗼𝘂𝗿 𝗶𝗻𝗱𝘂𝘀𝘁𝗿𝘆 𝗻𝗮𝘃𝗶𝗴𝗮𝘁𝗲 𝘁𝗵𝗲 𝗱𝗶𝗴𝗶𝘁𝗮𝗹 𝗺𝗮𝗿𝗸𝗲𝘁𝗶𝗻𝗴 𝗹𝗮𝗻𝗱𝘀𝗰𝗮𝗽𝗲.
𝙎𝙩𝙖𝙧𝙩 𝙔𝙤𝙪𝙧 𝙁𝙧𝙚𝙚 𝙒𝙚𝙗𝙨𝙞𝙩𝙚 𝘾𝙤𝙣𝙨𝙪𝙡𝙩𝙖𝙩𝙞𝙤𝙣 𝙉𝙤𝙬!
Your website is your best salesperson, and they will work 24 hours a day, 7 days a week. However, like any salesperson, you need to make sure your website has the information they need to be considered authoritative, credible, and trustworthy.
Overall performance, including page weight, page requests and speed
Mobile readiness
Search Engine Optimization (SEO)
Security
Design
Alignment with strategic goals
𝙔𝙤𝙪𝙧 𝙛𝙧𝙚𝙚 𝙖𝙨𝙨𝙚𝙨𝙨𝙢𝙚𝙣𝙩 𝙬𝙞𝙡𝙡 𝙞𝙣𝙘𝙡𝙪𝙙𝙚 𝙖 30 𝙢𝙞𝙣𝙪𝙩𝙚 𝙕𝙤𝙤𝙢 𝙢𝙚𝙚𝙩𝙞𝙣𝙜 where I will review our findings together. This is a no risk, no obligation offer. Contact us today using the form at the right to schedule your evaluation!
Michael Fieger
Digital Freelance Marketing Expert
Devil Dog Marketplace
561-713-9079 | [email protected]
https://devildogmarketplace.com
Your Tactical Tool-Belt For Digital Solutions
So Remember, Devil Dog Marketplace We Accomplish your mission with Military Precision